Mark Sisco, M.D.
501 Skokie Boulevard
Northbrook, IL 60062
Phone: (847) 504-2333
Monday: 8:30 a.m.–6 p.m.
Tuesday–Friday: 8:30 a.m.–5 p.m.

I'm Thinking of Removing My Breast Implants. Should I Have a Lift?
Breast implant removal (or "explant surgery") may be a good solution for women whose bodies or aesthetic goals have changed since their breast augmentation. At my Northbrook cosmetic surgery practice near Arlington Heights, I sometimes recommend including a breast lift to achieve the best results.
However, while including a lift is highly beneficial for the right candidates, it isn't necessary for everyone. In this blog post, I'll discuss how implant removal works, the benefits of adding a breast lift, and 4 factors that affect whether it's right for you.
What Does Breast Implant Removal Surgery Involve?
There are 3 main types of breast implant removal:
Breast implant removal: This removes the breast implant while leaving the surrounding scar capsule in the body to break down naturally.
Total capsulectomy with breast implant removal: This removes both the breast implant and the scar capsule, but not necessarily in one piece.
En bloc capsulectomy with breast implant removal: This removes the breast implant with the surrounding scar capsule intact.
Learn more about the details of each approach in this blog post.
Implant removal alone can be often done while you are under local anesthesia for most saline implants and non-ruptured silicone implants. Capsulectomies and lifts require general anesthesia.
What Will My Breasts Look Like After Breast Implant Removal?
The first change you'll notice after removing your breast implants is that your breasts are smaller. Along with this size change, you may notice stretched skin, droopiness, downward-pointing nipples, or a deflated look.
These issues are most common with large implants relative to the breast size or implants that have been in place for many years. If you have small implants or very elastic skin, you may not notice these concerns.
Results are highly variable depending on the specifics of your body and your implants. A few potential scenarios include:
A medium implant in a larger breast with good elasticity will likely have little to no drooping
A medium implant in a smaller breast with good elasticity may have a somewhat deflated look but minimal drooping
A large implant in a very small, constricted breast is likely to cause noticeable deflation and drooping
What Are the Benefits of Getting a Breast Lift After an Implant Removal?
A breast lift tightens drooping skin and tissues to give the breast a more lifted look. It addresses many of the concerns women face after implant removal and creates a more youthful and attractive breast appearance with long-lasting results.
Different types of lift approaches work best for different implant removal scenarios:
A periareolar (donut) lift works best for small implants
Circumvertical (lollipop) lift works well for medium implants
A wise-pattern (anchor) lift works best for large implants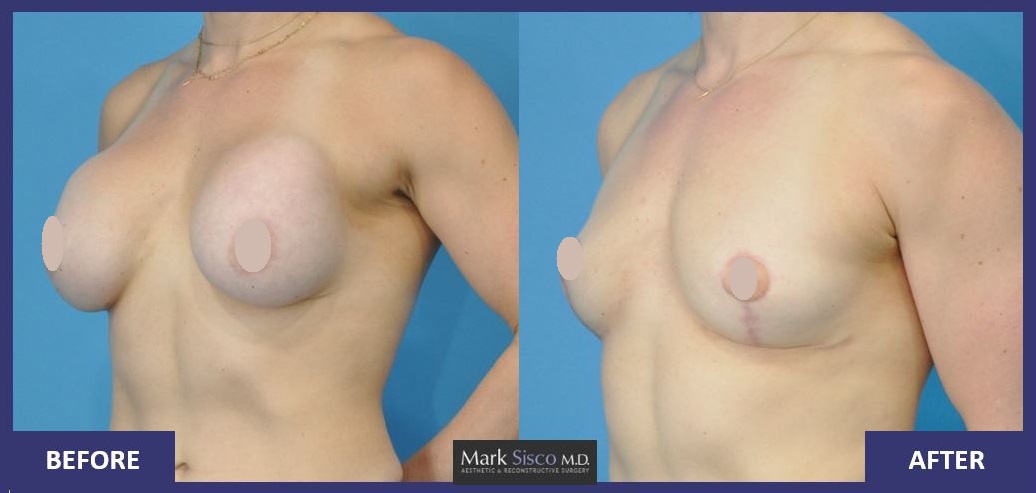 Should I Do Both at the Same Time?
The benefits of doing both at the same time include:
All changes are made during a single procedure.
This approach is more cost-effective than doing the explant and lift separately, especially when both are done under anesthesia.
The benefits of staging the procedures include:
You may decide that you look better than you expect after removal alone.
If your skin contracts some after the implants are removed, you may require fewer scars for your subsequent lift.
Is It Safe to Have an Implant Removal and Breast Lift Done at the Same Time?
When performed by an experienced, board-certified plastic surgeon, having an implant removal and breast lift done in the same surgery is a safe and efficient approach. It involves less overall downtime than having each done separately, and it lets you enjoy your dream post-implant breasts as quickly as possible.
4 Factors to Think About When Considering a Breast Implant Removal With a Lift
Is including a breast lift the right choice for you? Here are a few things to consider:
Skin elasticity: If you have good skin elasticity and your skin easily "bounces back," you're less likely to need a lift.
Implant size: Larger implants relative to the breast tissue are more likely to cause an unfavorable result when removed.
Nipple position: If your nipples fall below your breast crease, a lift can help you achieve a perkier and more youthful look.
Your preferences: In the end, the decision of whether to include a lift is yours to make based on what you're looking for in your removal procedure.
Can't Decide?
It can be difficult to predict how your breasts are going to look and how you are going to feel about your appearance.
In many cases, we can remove your implants using local anesthesia with minimal downtime. This allows you to see and live with the result. If you are unhappy with the breast appearance, we can perform a breast lift later using general anesthesia. This eliminates the need to undergo anesthesia twice and significantly reduces the additional cost associated with separating the procedures.
To see real patient examples of the results you can achieve with breast implant removal, please visit my before-and-after photo gallery.
If you would like to discuss your Northbrook breast augmentation or implant removal options in person, please request a consultation or call (847) 504-2333 to schedule an appointment. I look forward to hearing from you.