Mark Sisco, M.D.
501 Skokie Boulevard
Northbrook, IL 60062
Phone: (847) 504-2333
Monday: 8:30 a.m.–6 p.m.
Tuesday–Friday: 8:30 a.m.–5 p.m.

Revision Breast Surgery
Breast augmentation and breast reconstruction patients from North Shore, Arlington Heights, and beyond trust board-certified plastic surgeon Dr. Mark Sisco to give them the breast enhancement results they want. That's doubly true for revision breast surgery patients, who come to Dr. Sisco to improve the outcomes of their previous surgeries. Dr. Sisco is extensively trained in the nuances of breast surgery and uses some of the most trusted techniques to safely create results that fit with each of his patients' unique lifestyles, body types, and preferences.
If you're unhappy with the results of a previous breast surgery, get started with Dr. Sisco today. Request a consultation online or call NorthShore Plastic Surgery at (847) 504-2333. Located just north of Chicago, our office is minutes away from Glenview, Highland Park and Glencoe.
Why Revision Breast Surgery?
Both primary breast augmentation and breast reconstruction are well known for their reliably positive results, especially when safely performed by a qualified plastic surgeon. But no surgery comes with a guarantee. If you're experiencing any of the conditions listed here, revisionary breast surgery may be the preferred remedy. Some women decide that removing their breast implants is the best choice and Dr. Sisco has the experience and specialized training to perform that procedure, too.
Capsular Contracture
This patient, shown before revision breast augmentation with lift, presented with significant capsular contracture in her left breast.
Although still a relatively uncommon occurrence, capsular contracture is a well-known complication related to breast implants. Any time implants are added to the breasts, whether through breast augmentation or reconstruction, the body creates a "capsule" of tissue around the implants. This natural immune response is the body's way of sequestering the implant, a foreign object, from the rest of the body's systems and structures. However, occasionally the capsule can develop into a thick layer of scar tissue, causing breasts that are extremely firm to the touch. They may also look unnaturally round or especially far apart. Although capsular contracture isn't a medical emergency, it can be physically uncomfortable and the appearance of the breasts can certainly be quite distressing.
Capsular contracture can be caused by infection or implant rupture, although often it doesn't have a discernible cause.
Malposition
"Implant malposition" is a general term that refers to any case wherein the breast implants aren't positioned correctly. Malposition may occur as the result of a surgical error or by implants that migrate, on their own, away from their original positions at any point after surgery. Malposition can appear in any of the following iterations:
Implants too high on the chest. Although breast implants usually sit rather high on the chest in the immediate days and weeks after surgery, they undergo a "settling" process as tissues soften and heal. When this process doesn't occur, malposition is suspected.
Implants too low on the chest. Sometimes called "bottoming out" or "double bubble," this deformity occurs when implants migrate downward. Mild cases of bottoming out often look like excessive volume below the nipple. In more severe cases, the implant falls below the breast crease.
Implants too laterally spaced. This is an uncommon malposition deformity that occurs when the implants are spaced too far apart.
Implants too close. Technically called "symmastia," this "uni-boob" deformity occurs when implants are placed or move too close to each other, reducing or even eliminating the appearance of cleavage.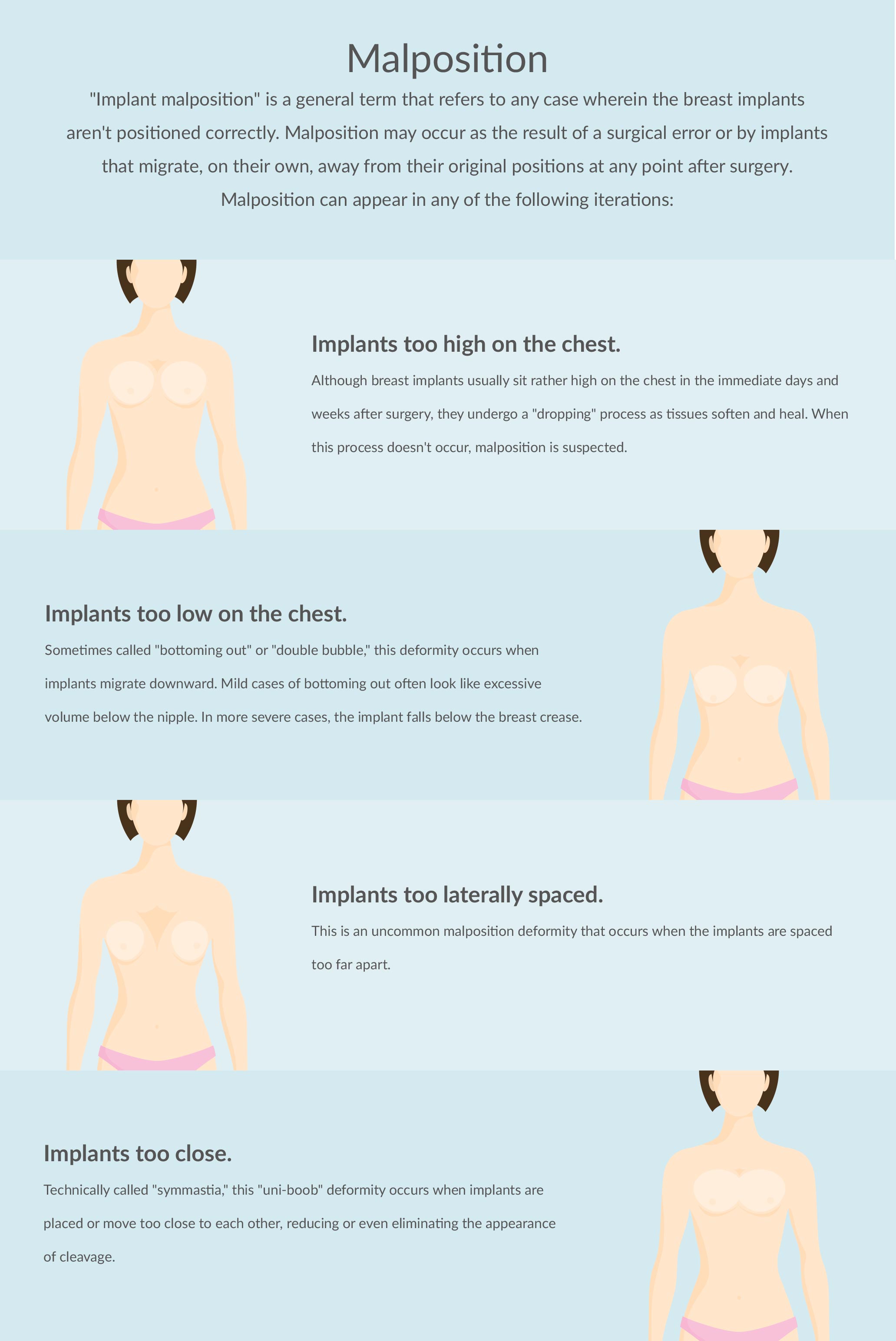 Unsatisfactory Results
Occasionally, a patient may pursue revisionary surgery simply because her results just aren't what she had in mind. Whether her implants are too small, too large, or don't fit her lifestyle, a change of heart is always possible. Revisionary surgery is usually indicated when a patient is unhappy with her final outcome.
The Life of a Breast Implant
Although today's implants look and function beautifully for much longer than previous implants, they don't last forever. Both silicone and saline breast implants begin to show their age within about a decade of the primary surgery. Over time, their silicone shells can weaken, making them more susceptible to rupture or leakage and leading to complications such as capsular contracture. If they don't leak, they may simply start to sag. Once the effects of aging become noticeable, revisionary surgery with an "upgraded" pair of implants or total removal of implants is appropriate.
Revision Breast Surgery

Before & After Photos
WARNING:
This feature contains nudity. Please click OK to confirm you are at least 18 years of age and are not offended by such material.
The Surgical Experience
There are several factors that work together to make revisionary surgery more complex than primary augmentation or reconstruction. The presence of scar tissue, for example, can make secondary surgery tricky. The skin elasticity and quality and quantity of breast tissue are also sometimes compromised in women who have had breast implants for some time. It's vital to choose a board-certified plastic surgeon who understands the nuances of breast revision and has the necessary experience to create the results you want.
Each revision surgery is unique. Due to its additional complexity, revisionary surgery is closely related to reconstruction. Dr. Sisco performs your revision while you are under general anesthesia, ensuring your complete comfort for the duration of the procedure. Different concerns require different techniques to be fully remedied. For example, if your implants have migrated below your breast crease, Dr. Sisco moves the implant back to its original position and may use a biocompatible material to support the implant and prevent the problem from reoccurring.
After surgery, you'll need to take at least 1 week off from work and other daily activities. Dr. Sisco recommends waiting longer if your job is physically demanding. While you recuperate, the same rules as your primary surgery typically apply — sleep on your back as much as possible, avoid high-impact activities, and take your prescribed pain medication as needed. By choosing Dr. Sisco and caring for yourself properly after surgery, you can ensure your results meet — and hopefully exceed — your expectations.
How Much Does Revision Breast Surgery Cost?
In Chicago, the cost of breast reduction surgery is quite variable depending on several different factors. These include the following:
Fees charged by the anesthesiologist
Fees charged by the surgical facility
The technical significance of your procedure and the techniques Dr. Sisco uses
The expected duration of your procedure
Revision breast surgery typically costs $2,500 to $11,500.
During your consultation, we provide you with a document that details the estimated cost of your revision breast surgery. We encourage you to take it home, look it over, consider your options and make an informed decision before deciding to have surgery.